CONNECTICUT HALFWAY HOUSES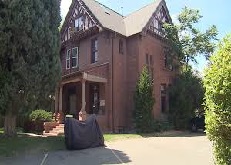 Connecticut Halfway Houses provide transitional housing for adult men and women in the state.
Types of Halfway houses in the US:
for people with substance abuse issues
reintegration of people who have been recently released from jail
for people with chronic mental health disorders
This houses provide a safe, clean and healthy living environment and structured recovery programs that help men and women overcome drug and alcohol addiction and restore dignity and self esteem. Some group homes can even provide employment opportunities.
Amenities include: gourmet kitchen, gym, pool, spa, central a/c, private bedroom, cable television, high-speed Internet, laundry facilities, entertainment and recreational opportunities, and client transportation.
Some rules and requirements: community service, 12-step program membership, treatment/recovery plan accomplishment, Alcoholics Anonymous and Narcotics Anonymous, curfews, random drug and alcohol testing.
Residents pay for their own stay or it could be financed by their private health insurance.
CONNECTICUT HALFWAY HOUSES
SE Council on Alc and Drug Depend Inc 62-64 Coit Street New London, Connecticut 06320 Phone: (860)442`1017
Connection Inc First Baptist Church 126 Washington Avenue Bridgeport, Connecticut 06604 Phone: (203)330`9304
Midwestern CT Council on Alcoholism 38 Old Ridgebury Road Danbury, Connecticut 06810 Phone: (203)792`4515
McCall Foundation Inc 127 Migeon Avenue Torrington, Connecticut 06790 Phone: (860)496`2105
Silver Hill Hospital Inc 208 Valley Road New Canaan, Connecticut 06840 Phone: (203)966`3561
SE Council on Alc and Drug Depend Inc 313 Main Street Norwich, Connecticut 06360 Phone: (860)889`3414
Grant Street Partnership 62 Grant Street New Haven, Connecticut 06519 Phone: (203)503`3350
Connecticut Renaissance Inc 31 Wolcott Street Waterbury, Connecticut 06702 Phone: (203)753`2341
MCCA McDonough House 38 Old Ridgebury Road Danbury, Connecticut 06810 Phone: (203)792`4515
Clayton House 203-205 Williams Street Glastonbury, Connecticut 06033 Phone: (860)659`0309
Stonington Institute 75 Swantown Hill Road North Stonington, Connecticut 06359 Phone:  (860)535`1010x2
Mountainside Lodge Inc 187 South Canaan Road Route 7 Canaan, Connecticut 06018 Phone: (860)824`1397x1
Helping Hand Center Inc 1124 Iranistan Avenue Bridgeport, Connecticut 06605 Phone: (203)336`4745x1
Hogar Crea Stowe Village Womens Center 18 New Park Avenue Hartford, Connecticut 06106 Phone: (860)232`7353
Veterans Recovery Center 287 West Street Rocky Hill, Connecticut 06067 Phone: (860)721`5817
Rushford Center Inc 1250 Silver Street Middletown, Connecticut 06457 Phone: (860)346`0300
Youth Challenge of Connecticut 15-17-19 May Street Hartford, Connecticut 06105 Phone: (860)728`5199


Return from Connecticut Halfway Houses to Home page.

DISCLAIMER: The law will vary depending on your state, jurisdiction and the specifics of your case. The information provided by USAttorneyLegalServices.com is intended for educational purposes only. The content on this site should NOT be considered professional legal advice or a substitute for professional legal advice. For such services, we recommend getting a free initial consultation by a licensed Attorney in your state.
Copyright © 2020 USAttorneyLegalServices.com - Connecticut Halfway Houses - All Rights Reserved.