EMPLOYMENT AGENCIES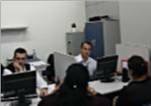 Find employment agencies and services offering permanent and temporary job placements.
Employment agencies are companies that match employers to employees. A great number of employers do have open positions that are currently ready to be filled.
Employment websites provide you with a variety of services such as: outsourcing, temporary staffing, permanent placement, consulting and outplacement.
Employment Websites
MONSTER - 1-800-MONSTER (800) 666`7837. Specialists are available to help Monday-Friday, 7:00am - 11:00pm EST; Saturday and Sunday, 10:00am - 7:00pm EST.
ADECCO Employment Services - 31,000 employees and 5,500 offices, in more than 60 countries and territories around the world, connecting more than 600,000 colleagues with over 100,000 clients every day. Contact: (800) 564`5644
Manpower - World Headquarters
100 Manpower Place
Milwaukee, WI 53212 USA
Telephone: +1 (414) 961`1000
Global network of over 4,000 offices in 82 countries and territories
28,000 Staff Employees worldwide.
400,000 Clients worldwide.
Provides a comprehensive range of services for the entire employment and business cycle.
AEROTEK - U.S. Toll Free: 888-AEROTEK (888) 237`6835 Canada: (877) 330`3394
AppleOne - Phone:(800) 564`5644
WorkTree Job Portal - 50,000+ links to jobsites, recruiters, employers.
If you work on temporary assignments, you should expect weekly paydays (usually a check every Friday).
You may pick up your check at the temporary employment agency branch office, or instruct the agency to mail it to your home address.
Types of costs for hiring a new employee:
Advertising and Recruitment
Employer Contribution to Social Security
Workers Compensation Insurance
Time Cost for Interviewing and Reviewing Resumes
Some companies provide temporary Associates with a complete menu of benefits including:
Weekly Paydays
Dental Plan
Medical Plan
Vision Plan
Flexible Scheduling
401k
Credit Union
Bonus Programs
Computer tutorials for computer software programs
Employee of the Month - honor that can earn extra cash and recognition.
U.S. Department of Labor
200 Constitution Ave., NW
Washington, DC 20210
1(866)4`USA`DOL, TTY: 1(877)889`5627
Society for Human Resource Management
1800 Duke Street
Alexandria, Virginia 22314 USA
Phone US Only: (800) 283`SHRM
International: +1 (703) 548`3440
TTY/TDD (703) 548`6999
Fax (703) 535`6490
Return from Employment Agencies to Home page.

DISCLAIMER: The law will vary depending on your state, jurisdiction and the specifics of your case. The information provided by USAttorneyLegalServices.com is intended for educational purposes only. The content on this site should NOT be considered professional legal advice or a substitute for professional legal advice. For such services, we recommend getting a free initial consultation by a licensed Attorney in your state.
Copyright © 2020 USAttorneyLegalServices.com - Employment Agencies - All Rights Reserved.