FINANCIAL HARDSHIP LETTER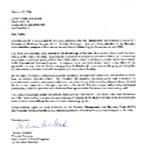 A Financial Hardship Letter explains the reasons affecting the debtor's ability to maintain his or her financial obligations.
It must be accompanied by documentation and statements that support the difficult economic situation the debtor is going through.
Also the letter must disclose the approximate period of time the debtor would again have the ability of repayment.
Debts that are considered good candidates for settlement negotiation include: medical bills, credit cards, mortgage, personal loans, department store cards, student loans, bounced checks, auto,...

The letter below can be used as an EXAMPLE to create YOUR OWN letter to the bank or loan institution. It is for personal use ONLY.
FINANCIAL HARDSHIP LETTER SAMPLE
(Date)
(Creditor Name)
(Address)
(Phone #)
RE: Hardship Letter
Dear Sir/Madam,
I am experiencing financial hardship due to (job loss, health problems, death in the family, high medical bills, military duty, failed business, reduced income….)
I have fallen behind on my payments because my income has dropped considerably since (month) and I can no longer afford the terms of the original loan.
Enclosed you will find some documents and statements that will substantiate my present economic situation. (Include copies of bank statements, proof of income, late notices, anything that can prove hardship.)
Since I have been a loyal customer of your financial institution for the last (2 Months, 2 Years), I'd like to ask for a (loan extension, lower interest rate, refinancing, short sale, debt settlement in the amount of ($),…)
I am sure this is only a temporary condition and very soon I will be able to make my payments in full again.
If you have any questions, please feel free to contact me at (your phone # with area code.)
Thank you for your consideration and I'd really appreciate any help you can offer me.
Sincerely,
(Debtor Name)
(Address)
(Phone #)

Find information on bankruptcy lawyers, Chapter 7 & 13 bankruptcy, the cost of filing bankruptcy, debt and credit counseling, and how to file for unemployment.
The objective of a hardship letter:
Obtaining debt consolidation
Preventing the foreclosure of property
Obtaining payment deadlines leniency
Getting help with medical bills and credit card debts
Obtaining reduced tuition scholarship, or grant for higher education
When writing your letter don't forget to:
Include a short, to the point description of the circumstances that led you to default.
Date and keep a copy for yourself
Include the documentation and statements
Document every call, conversations, fax, letter, email you receive.
A well written hardship letter informs the lender the reasons why you're in financial distress and your ability to overcome this situation and sort it all out.
Providing the details of your hardship is extremely important if you want to convince the lender to stop foreclosure of your home and modify your loan instead. Ask the assistance of an foreclosure attorney to write an appropriate financial hardship letter or you can use the letter examples you'll find on the web.
OTHER LETTER EXAMPLES:
Sample Financial Hardship Letter
Sample Foreclosure Hardship Letter
Sample Recommendation Letter for Employment
Sample Letter Request for Credit Report
Sample Credit Card Hardship Letter
Return from Financia Hardship Letter to Home page.

DISCLAIMER: The law will vary depending on your state, jurisdiction and the specifics of your case. The information provided by USAttorneyLegalServices.com is intended for educational purposes only. The content on this site should NOT be considered professional legal advice or a substitute for professional legal advice. For such services, we recommend getting a free initial consultation by a licensed Attorney in your state.
Copyright © 2020 USAttorneyLegalServices.com - Financia Hardship Letter - All Rights Reserved.