RENT RECEIPT TEMPLATE FORMS
Free Landlord Forms, Examples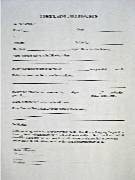 A simple Rent Receipt template should include the following:
Name of tenant
Address of tenant (property location)
Date
Payment amount
Form of payment (cash, check, money order, cashier's check)
Rent period
Signature of the person who received the rent payment (landlord)
If you wish to claim rent expenses on your tax return it's always good to get a receipt issued by the property owner or manager.
In case the property management would not emit a rent receipt, you should write down your own receipt and get them to sign it (preferably with a witness).
An additional way to protect yourself is paying the property administration by check or cashier's check duly noted that it covers the rent for that week, month or year in full.
Below is a Rent Receipt Format Sample that can be used by landlords and tenants alike.


I collected from Mr/Mrs: ________________________________________________ resident of _______________________, city of _________________, State of _____, ZIP: _______, the amount of $ ____________, (______________________________________________ Dollars), which is RENT for the period of _____________________ for the property located on the address described above.
Rent payment was made by ___ Cash, ___ Check#____________, ___ Money Order/Cashier's Check#________________.


Alabama, Alaska, Arizona, Arkansas, California, Colorado, Connecticut, D.C., Delaware, Florida, Georgia, Hawaii, Idaho, Illinois, Indiana, Iowa, Kansas, Kentucky, Louisiana, Maine, Maryland, Massachusetts, Michigan, Minnesota, Mississippi, Missouri, Montana, Nebraska, Nevada, New Hampshire, New Jersey, New Mexico, New York, North Carolina, North Dakota, Ohio, Oklahoma, Oregon, Pennsylvania, Rhode Island, South Carolina, South Dakota, Tennessee, Texas, Utah, Vermont, Virginia, Washington, West Virginia, Wisconsin, Wyoming.
Cash Receipt Template for products & services.
Return from rent receipt template to Home page.

DISCLAIMER: The law will vary depending on your state, jurisdiction and the specifics of your case. The information provided by USAttorneyLegalServices.com is intended for educational purposes only. The content on this site should NOT be considered professional legal advice or a substitute for professional legal advice. For such services, we recommend getting a free initial consultation by a licensed Attorney in your state.
Copyright © 2020 USAttorneyLegalServices.com - rent receipt template - All Rights Reserved.