DEBT AND CREDIT COUNSELING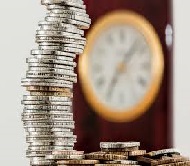 Consumer Debt & Credit Counseling Services are non-profit organizations that provide education, counseling, advocacy and money management information and assistance to consumers in the US.

Your debt and credit counseling session is completely confidential, and will have NO affect on your credit report history.

What can you expect from a reputable, non-profit credit counseling agency
CCCS will:
Provide a free financial assessment
Help you manage your money,
Review your income, expenses and debt
Identify your short and long term financial goals.
Remove collections, charge-offs, late payments e other stuff from your credit report
Develop a workable budget by creating a spending and savings plan that records monthly income and tracks monthly expenses
Offers tips for handing financial crises
Relieve the stress caused by debt problems.
Help to pay off debt and avoid bankruptcy
Offers assistance on buying a first home,
Establish priorities,
Monitor your progress after setting your financial goals
Create an action plan of suggestions to improve your situation.
Stop the harassing calls,
Lower your monthly payments
Teach how to avoid foreclosure and bankruptcy
Help you raise your credit score to a higher level, making it easier to qualify for loans at better rates and terms.
A typical debt and credit counseling session lasts about ONE HOUR. It is completely confidential, and will have NO affect on your credit report history.
Choose a reputable CCCS agency that:
Is not-for-profit
Has over 5 years business experience
Is licensed and bonded in your state
Offers reasonable fees
Is ISO Certified
Has certified counselors
Is accredited with the International Standards Organization (ISO) or by the Council on Accreditation (COA)
Offers in-person or telephone appointment
Is approved by the US Department of Housing and Urban Development
Offers One on One Counseling
Is member-affiliate of the National Foundation for Credit Counseling
Maintain accreditation through the Council on Accreditation.
All CCCS counselors are required to take and pass and maintain certification examinations in housing, financial counseling, bankruptcy and the Fair Credit Reporting Act.
What to Bring
pay stubs representing your average pay period
a list of your regular household expenses
any collection letters you received
your most recent creditor statements
and any other information that you feel is relevant
CCCS usually charge a nominal monthly servicing fee that ranges from 45 to 125 Dollars or more.
If you decide to file for bankruptcy:
The Bankruptcy Abuse Prevention and Consumer Protection Act mandates that consumers obtain a Certificate that shows financial counseling with an approved credit and debt counseling agency prior to their bankruptcy petition being filed.


US CREDIT COUNSELING AGENCIES - State by State
Massachusetts Credit Counseling
New Hampshire Credit Counseling
North Carolina Credit Counseling
North Dakota Credit Counseling
Pennsylvania Credit Counseling
Rhode Island Credit Counseling
South Carolina Credit Counseling
South Dakota Credit Counseling
West Virginia Credit Counseling
Return from Debt and Credit Counseling Services to Home page.



Return from Debt And Credit Counseling to Home page.

DISCLAIMER: The law will vary depending on your state, jurisdiction and the specifics of your case. The information provided by USAttorneyLegalServices.com is intended for educational purposes only. The content on this site should NOT be considered professional legal advice or a substitute for professional legal advice. For such services, we recommend getting a free initial consultation by a licensed Attorney in your state.
Copyright © 2020 USAttorneyLegalServices.com - Debt And Credit Counseling - All Rights Reserved.