MICHIGAN HALFWAY HOUSES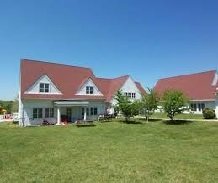 Michigan Halfway Houses provide transitional housing for adult men and women in the state.
Types of Halfway houses in the US:
for people with substance abuse issues
reintegration of people who have been recently released from jail
for people with chronic mental health disorders
This houses provide a safe, clean and healthy living environment and structured recovery programs that help men and women overcome drug and alcohol addiction and restore dignity and self esteem . Some group homes can even provide employment opportunities.
Amenities include: gourmet kitchen, gym, pool, spa, central a/c, private bedroom, cable television, high-speed Internet, laundry facilities, entertainment and recreational opportunities, and client transportation.
Some rules and requirements: community service, 12-step program membership, treatment/recovery plan accomplishment, Alcoholics Anonymous and Narcotics Anonymous, curfews, random drug and alcohol testing.
Residents pay for their own stay or it could be financed by their private health insurance.

New Life Home for Recovering Women Inc 17131 Gitre Street Detroit, Michigan 48205 Phone: (313)245`4357
Department of Veteran Affairs 5500 Armstrong Road Battle Creek, Michigan 49015 Phone: (269)966`5600x5
Self Help Addiction Rehab (SHAR) 1852 West Grand Boulevard Detroit, Michigan 48208 Phone: (313)894`8444
Community Healing Centers 1910 Shaffer Street Kalamazoo, Michigan 49048 Phone: (269)382`9820
Project Rehab 200 Eastern Avenue SE Grand Rapids, Michigan 49503 Phone: (616)776`0891x3
Acupuncture Treatment Concepts II 514-516 Alger Street Detroit, Michigan 48202 Phone: (313)871`9940
Harbor Hall 704 Emmet Street Petoskey, Michigan 49770 Phone: (888)880`5511
Narconon Stone Hawk 216 Saint Mary's Lake Road Battle Creek, Michigan 49017 Phone: (269)969`9773
Prevention and Training Services 4601 West Saginaw Street Suite C Lansing, Michigan 48917 Phone: (517)323`8149
Mariners Inn 445 Ledyard Street Detroit, Michigan 48201 Phone: (313)962`9446
Grace House P.O Box 571 New Haven, Michigan 48048 Phone: (586)405`1796 Fax: (586)749`3334
Salvation Army Harbor Light Center 42590 Stepnitz Drive Clinton Township, Michigan 48036 Phone: (586)954`1838x2
Ottagan Addictions Rehab Inc (OAR) 231 Washington Boulevard Holland, Michigan 49423 Phone: (616)396`6872x1
West Michigan Therapy Inc 2333 East Jarman Street Muskegon, Michigan 49444 Phone: (231)739`6840
Self Help Addiction Rehab (SHAR) 4216 McDougall Street Detroit, Michigan 48207 Phone: (313)923`6300x2
Heartline Inc 8201 Sylvester Street Detroit, Michigan 48214 Phone: (313)923`4200
Pathfinder Resources Inc 243 68th Street Grand Rapids, Michigan 49548 Phone: (616)242`6400
Home of New Vision 3800 Packard Street Suite 210 Ann Arbor, Michigan 48108 Phone: (734)975`1602
Ottagan Addictions Recovery Inc (OAR) 377 Lincoln Avenue Holland, Michigan 49423 Phone: (616)355`7095
Detroit Light House Program 3750 Woodward Avenue Suite C-40 Detroit, Michigan 48201 Phone: (313)832`1300
Transition House Inc 931 Martin Luther King Avenue Flint, Michigan 48503 Phone: (810)232`2091
Sequoia Recovery Services LLC 363 West Huron Street Pontiac, Michigan 48341 Phone: (248)745`6940
Community Substance Abuse Services Inc 373 Woodward Avenue Kingsford, Michigan 49802 Phone: (906)774`7511
Surrender House 320 S. Luther St. Detroit, Michigan 48217 Phone: (734)282`6420 Phone: (313)673`6347 Fax: (734)377`6267
Woodward Counseling Inc 3163-G Flushing Road Suite 106 Flint, Michigan 48504 Phone: (810)249`9924
Operation Get Down 10100 Harper Street Detroit, Michigan 48213 Phone: (313)921`9422
Elmhurst Home Inc 12007 Linwood Street Detroit, Michigan 48206 Phone: (313)867`1090x1
Brighton Hospital 12851 East Grand River Brighton, Michigan 48116 Phone: (810)227`1211

Return from Michigan Halfway Houses to Home page.

DISCLAIMER: The law will vary depending on your state, jurisdiction and the specifics of your case. The information provided by USAttorneyLegalServices.com is intended for educational purposes only. The content on this site should NOT be considered professional legal advice or a substitute for professional legal advice. For such services, we recommend getting a free initial consultation by a licensed Attorney in your state.
Copyright © 2020 USAttorneyLegalServices.com - Michigan Halfway Houses - All Rights Reserved.