NEW JERSEY HALFWAY HOUSES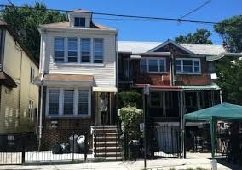 New Jersey Halfway Houses provide transitional housing for adult men and women in the state.

TYPES OF HALFWAY HOUSES IN THE US:

for people with substance abuse issues
reintegration of people who have been recently released from jail
for people with chronic mental health disorders
This houses provide a safe, clean and healthy living environment and structured recovery programs that help men and women overcome drug and alcohol addiction and restore dignity and self esteem . Some group homes can even provide employment opportunities.
Amenities include: gourmet kitchen, gym, pool, spa, central a/c, private bedroom, cable television, high-speed Internet, laundry facilities, entertainment and recreational opportunities, and client transportation.
Some rules and requirements: community service, 12-step program membership, treatment/recovery plan accomplishment, Alcoholics Anonymous and Narcotics Anonymous, curfews, random drug and alcohol testing.
Residents pay for their own stay or it could be financed by their private health insurance.
Endeavor House 6 Broadway Keyport, New Jersey 07735 Phone: (732)264`3824
Choices Inc 169 Roseville Avenue Newark, New Jersey 07107 Phone: (973)481`1889x2
Mrs Wilsons Halfway House 56 Mount Kemble Avenue Morristown, New Jersey 07960 Phone: (973)540`0116x1
United Progress Inc 56 Escher Street Trenton, New Jersey 08609 Phone: (609)392`2822
Evas Kitchen and Sheltering Progs Inc 16 Spring Street Paterson, New Jersey 07501 Phone: (973)754`6780
Aids Resource Foundation for Children 176 Roseville Ave. Newark, New Jersey 07107 Phone: (973)483`4250
Atlantic Care Health for the Homeless 2009 Bacharach Boulevard Atlantic City, New Jersey 08401 Phone: (609)344`5714
Straight and Narrow Inc 508 Straight Street Paterson, New Jersey 07509 Phone: (973)345`6000x6
Seaside Haven/Cedar Avenue House 301 North Route #50 Mays Landing, New Jersey 08330 Phone: (609)390`7734
Amity House for Women 211 Garden Street Mount Holly, New Jersey 08060 Phone: (609)267`6182
Sunrise House/Halfway House 47 Main Street Franklin, New Jersey 07416 Phone: (973)827`5489
Spring House/Female Halfway House 230 East Ridgewood Avenue Bergen Regional Medical Center Bldg 7 Paramus, New Jersey 07652 Phone: (201)261`3582
Mattie House 86 Conoer Road Marlboro, New Jersey 07746 Phone: (732)817`0616
Market Street Mission 9 Market Street Morristown, New Jersey 07960 Phone: (973)538`0431
Evas Kitchen and Sheltering Progs Inc 393 Main Street Paterson, New Jersey 07501 Phone: (973)523`6220
Bergen County Community Action 261 State Street Hackensack, New Jersey 07601 Phone: (201)342`0029
Project Alert 930 Putnam Avenue Plainfield, New Jersey 07060 Phone: (908)753`3395
Crawford House Inc 362 Sunset Road Skillman, New Jersey 08558 Phone: (908)874`5153
Rescue Mission of Trenton 98 Carroll Street Trenton, New Jersey 08609 Phone: (609)393`3533x1
Sunrise House Foundation Inc 37 Sunset Inn Road Lafayette, New Jersey 07848 Phone: (973)383`6300
Discovery Institute for Route 520 Cottage 15 Marlboro, New Jersey 07746 Phone: (732)946`9444
Integrity Inc 595 County Avenue Building 6 Secaucus, New Jersey 07094 Phone: (201)583`7100x7
SERV Behavioral Health System Inc 777 Bloomfield Avenue Suite B Clifton, New Jersey 07012 Phone: (973)594`0125
Epiphany House 300 4th Avenue Asbury Park, New Jersey 07712 Phone: (732)775`0720
Freedom House 3 Pavillion Road Glen Gardner, New Jersey 08826 Phone: (908)537`6043
Return from New Jersey Halfway Houses to Home page.

DISCLAIMER: The law will vary depending on your state, jurisdiction and the specifics of your case. The information provided by USAttorneyLegalServices.com is intended for educational purposes only. The content on this site should NOT be considered professional legal advice or a substitute for professional legal advice. For such services, we recommend getting a free initial consultation by a licensed Attorney in your state.
Copyright © 2020 USAttorneyLegalServices.com - New Jersey Halfway Houses - All Rights Reserved.