NORTH DAKOTA CHILD SUPPORT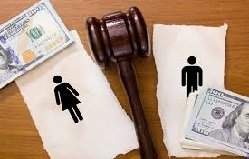 Addresses and Information on Enforcement of Court Ordered North Dakota Child Support Payment.
According to the state and federal law, when non-custodial parents fail to pay the child support obligation, they are subject to enforcement measures in order to collect any regular or past-due payments.
Here are some of the tools used by the state to enforce court ordered child support payments:
Income withholding
Liens on real estate property, vehicles, or other assets
Driver's license suspension or revocation
Passport denial, revocation or restriction
Income tax offsets
Certifying debts
Suspension or revocation of professional and hunting/fishing licenses
Reporting to credit bureaus
Non-paying parent may be sent to jail and enter a judgment for past due support.
The Child Support Programs ensure that children receive the court-ordered financial support to which they are legally entitled. It provides services as to establishing paternity, and enforcing child support and medical support orders.
The court has to examine some important financial documents before calculating child support payments, such as:
Gross income of both parents
Court-ordered support child support for children of other relationships
Any paid or received spousal support or alimony
Health insurance costs and extraordinary medical costs
Childcare and education costs
It is of your best interest that you provide the most accurate information about your assets and financial information.
Child support orders automatically terminate when:
The child reaches the age of 18 and graduates from high school
Is emancipated by the court
Has a change in legal custody
Gets married
Enlists in the armed forces
Passes away
Support may not terminate if the child has severe special needs which cause him/her to remain dependent.
North Dakota Department Of Human Services, Lake Region Child Support 1820 Walnut Street E # 4 Devils Lake, ND 58301-3411 Phone: (701) 662`5374
County Of Burleigh, Regional Child Support Service 514 E Thayer Avenue Bismarck, ND 58501-4413 Phone: (701) 222`6721
North Dakota Department Of Human Services, Child Support Enforcement Div 1600 E Century Avenue # 7 Bismarck, ND 58503-0649 Phone: (701) 328`3582
Cass County Child Support, 4950 13th Avenue S # 22 Fargo, ND 58103-7268 Phone: (701) 241`5640
Ward County Child Support, 305 17th Avenue SW # A Minot, ND 58701-6200 Phone: (701) 857`7696
Child Support Enforcement Unit, 804 13th Street NE Jamestown, ND 58401-3586 Phone: (701) 252`7394
Three Tribes Child Support New Town, ND 58763 Phone: (701) 627`2860
Child Support Enforcement 151 S 4th Street # N101 Grand Forks, ND 58201-4715 Phone: (701) 795`3960
Williams County Child Support 205 E Broadway Williston, ND 58801-6123 Phone: (701) 577`4560
Grand Forks Regl Child Support 151 S 4th Street Grand Forks, ND 58201-4715 Phone: (701) 785`8575
District Court-Child Support 315 3rd Street SE Minot, ND 58701-3959 Phone: (701) 857`6600
Return from North Dakota Child Support to Home page.

DISCLAIMER: The law will vary depending on your state, jurisdiction and the specifics of your case. The information provided by USAttorneyLegalServices.com is intended for educational purposes only. The content on this site should NOT be considered professional legal advice or a substitute for professional legal advice. For such services, we recommend getting a free initial consultation by a licensed Attorney in your state.
Copyright © 2020 USAttorneyLegalServices.com - North Dakota Child Support - All Rights Reserved.