SOUTH CAROLINA SOCIAL SECURITY OFFICES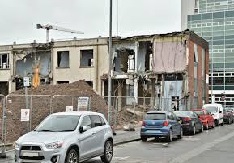 You can apply for Social Security Disability benefits in person, online, via regular mail, or even via telephone. Don't take the chance of having your social security application being mishandled or incomplete, it can delay the process even longer. Consult a competent Social Security lawyer to help you get the rights and benefits you deserve.

NATIONAL TOLL-FREE NUMBERS: 1(800)772`1213 and TTY 1(800)325`0778. When you call, please have your Social Security number nearby to expedite the process. Calls will be answered Monday through Friday from 7 AM to 7 PM.

Be prepared to show a government issued photo Identification to enter Federal buildings in most States.
SOUTH CAROLINA SOCIAL SECURITY OFFICES LOCATIONS
Aiken Social Security Disability 151 Corporate Pkwy Aiken, SC 29803 Telephone: 1(803)648`2356
Anderson Social Security Disability 3420 Clemson Boulevard Anderson, SC 29621-1324 Telephone: (864) 231`7057
Bennettsville Social Security Disability 1060 Cottingham Blvd N Bennettsville, SC 29512 Telephone: 1(888)810`7373
Camden Social Security Disability 1111 Broad Street 2nd Floor Camden, SC 29020 Telephone: 1(888)810`7373
Charleston Social Security Disability 1463 Tobias Gadsen Blvd Charleston, SC 29407 Telephone: 1(843)573`3600
Clinton Social Security Disability 292 Professional Park Rd Clinton, SC 29325 Telephone: 1(866)526`9854
Columbia Social Security Disability Strom Thurmond Federal Building 1835 Assembly Street Columbia, SC 29201-2441 Telephone: (803) 929`7635
Conway Social Security Disability 1316 3rd Ave Conway, SC 29526 Telephone: 1(843)248`4271
Florence Social Security Disability 181 Dozier Blvd Florence, SC 29501 Telephone: 1(843)662`4651
Georgetown Social Security Disability 413 King St Georgetown, SC 29440 Telephone: 1(866)593`1584
Greenville Social Security Disability 319 Pelham Road Greenville, SC 29615-3110 Telephone: 1(864)233`1116
Greenwood Social Security Disability 115 Enterprise Court, Suite C Greenwood, SC 29649 Telephone: 1(866)739`4803
Orangeburg Social Security Disability 1391 Middleton Street Orangeburg, SC 29115-3115 Telephone: 1(803)531`1568
Port Royal Social Security Disability 2212 Mossy Oaks Rd Port Royal, SC 29935 Telephone: 1(843)524`5795
Rock Hill Social Security Disability 498 Lakeshore Parkway Rock Hill, SC 29730-4205 Telephone: 1(803)385`3494
Spartanburg Social Security Disability 140 Magnolia St Spartanburg, SC 29306 Telephone: 1(866)701`6620
Sumter Social Security Disability 240 N Bultman Dr Sumter, SC 29150-2500 Telephone: 1(803)775`9140
Walterboro Social Security Disability 502 Robertson Blvd Walterboro, SC 29488 Telephone: 1(843)549`2866
Return from South Carolina Social Security Offices to Home page.

DISCLAIMER: The law will vary depending on your state, jurisdiction and the specifics of your case. The information provided by USAttorneyLegalServices.com is intended for educational purposes only. The content on this site should NOT be considered professional legal advice or a substitute for professional legal advice. For such services, we recommend getting a free initial consultation by a licensed Attorney in your state.
Copyright © 2020 USAttorneyLegalServices.com - South Carolina Social Security Offices - All Rights Reserved.