WEST VIRGINIA SOCIAL SECURITY OFFICES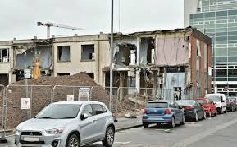 You can apply for Social Security Disability benefits in person, online, via regular mail, or even via telephone. Don't take the chance of having your social security application being mishandled or incomplete, it can delay the process even longer. Consult a competent Social Security lawyer to help you get the rights and benefits you deserve.

Call toll-free numbers 1(800)772`1213 (TTY 1(800)325`0778) to make an appointment with an LOCAL WEST VIRGINIA SOCIAL SECURITY OFFICE representative. Hours of operation from 7 a.m. to 7 p.m., Monday through Friday. Don't forget to have your Social Security number when you call.

Be prepared to show a government issued photo Identification to enter Federal buildings in most States.
WEST VIRGINIA SOCIAL SECURITY OFFICES LOCATIONS
Beckley Social Security Disability 307 Beckley Crossing Shopping Center Beckley, WV 25801 Telephone: 1(866)964`2042
Bluefield Social Security Disability 3014 E Cumberland Road Bluefield, WV 24701 Telephone: 1(304)327`3581
Charleston Social Security Disability 500 Quarrier Street Suite 300 Charleston, WV 25301 Telephone: 1(888)527`9305
Clarksburg Social Security Disability Clarksburg Federal Center 320 W Pike St Clarksburg, WV 26301 Telephone: 1(304)623`5641
Elkins Social Security Disability 300 Third Street Suite 325 Elkins, WV 26241 Telephone: 1(304)636`3916
Fairmont Social Security Disability Middletown Mall 9039 Middletown Mall Fairmont, WV 26554 Telephone: 1(304)366`6925
Huntington Social Security Disability 301 9th Street 3rd Floor Huntington, WV 25701 Telephone: 1(866)931`7078
Logan Social Security Disability 1103 George Kostas Drive Logan, WV 25601 Telephone: 1(304)752`5944
Martinsburg Social Security Disability 400 Foxcroft Avenue Suite 102 Martinsburg, WV 25401 Telephone: 1(304)263`6912
Morgantown Social Security Disability Mountaineer Mall 5000 Greenbag Rd Morgantown, WV 26501 Telephone: 1(866)770`2055
Parkersburg Social Security Disability 425 Juliana Street Suite 4301 Parkersburg, WV 26101 Telephone: 1(304)485`5809
Petersburg Social Security Disability 207 North Main St Petersburg, WV 26847 Telephone: 1(304)257`2573
St. Albans Social Security Disability 49 Olde Main Plaza St Albans, WV 25177 Telephone: 1(866)316`8153
Welch Social Security Disability 50 McDowell St Welch, WV 24801 Telephone: 1(304)436`3924
Wheeling Social Security Disability 123 16th Street Wheeling, WV 26003 Telephone: 1(304)232`7710
Williamson Social Security Disability 146 East First Ave Williamson, WV 25661 Telephone: 1(888)759`3920

Return from West Virginia Social Security Offices to Home page.

DISCLAIMER: The law will vary depending on your state, jurisdiction and the specifics of your case. The information provided by USAttorneyLegalServices.com is intended for educational purposes only. The content on this site should NOT be considered professional legal advice or a substitute for professional legal advice. For such services, we recommend getting a free initial consultation by a licensed Attorney in your state.
Copyright © 2020 USAttorneyLegalServices.com - West Virginia Social Security Offices - All Rights Reserved.