ALABAMA BANKRUPTCY COURTS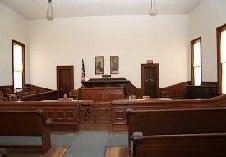 Northern District of Alabama Bankruptcy Courts

Seybourn H. Lynne Federal Building 400 Well Street, PO Box 2775 Decatur, Alabama 35602 Phone: (256) 584`7900 Fax: (256) 584`7977

Bankruptcy Judge - Jack Caddell 1129 Noble Street, Room 117 Anniston, Alabama 36201 Phone: (256) 741`1500 Fax: (256) 741`1515
Bankruptcy Judge - James J. Robinson
Tuscaloosa Federal Courthouse 1118 Greensboro Avenue Room 209 Tuscaloosa, Alabama 35401 Phone: (205) 561`1600 Fax: (205) 561`1640
Bankruptcy Judge - C. Michael Stilson
Robert S. Vance Federal Building 1800 5th Avenue North, Room 120 Birmingham, Alabama 35203-2111 Phone: (205) 714`4000 Fax: (205) 714`3913
Bankruptcy Judges - Benjamin Cohen, Chief Judge Tamara O. Mitchell, Thomas Bennett
Middle District of Alabama
Frank M. Johnson United States Courthouse One Church Street Montgomery, Alabama 36104 Phone: (334) 954`3800
Bankruptcy Judges - Dwight H. Williams, Jr., Chief Judge William R. Sawyer 201 St. Louis Street Mobile, Alabama 36602 Telephone: (251) 441`5391
Southern District of Alabama
Bankruptcy Judges - William S. Shulman, Chief Judge Margaret A. Mahoney

About EBN
Electronic Bankruptcy Noticing (EBN) is a service that transmits court notices electronically, delivering them fast, conveniently and free. Contact Electronic Bankruptcy Noticing (EBN) Customer Service at 1(877)837`3424
REDACTION INFORMATION: Social Security or taxpayer id numbers, dates of birth, names of minor children, and financial account numbers. 

Return from alabama bankruptcy courts to Home page.

DISCLAIMER: The law will vary depending on your state, jurisdiction and the specifics of your case. The information provided by USAttorneyLegalServices.com is intended for educational purposes only. The content on this site should NOT be considered professional legal advice or a substitute for professional legal advice. For such services, we recommend getting a free initial consultation by a licensed Attorney in your state.
Copyright © 2020 USAttorneyLegalServices.com - alabama bankruptcy courts - All Rights Reserved.