BANKRUPTCY LIST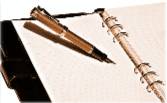 Due to the economy, hundreds of large, name brand businesses will join the bankruptcy list this year.
Some of these companies will either file for bankruptcy protection or simply go under, according to the estimates.
A few years ago Americans had a lot of money to spend. All kinds of business were booming. Now, in the current state of the economy, consumers are struggling and for many companies it's survival of the fittest time.
Going bankrupt can help them emerge as stronger companies?
Most of them are seeking Chapter 11 bankruptcy protection what doesn't mean the company is going out of business. It gives the company benefits such as paring debt and writing off unused facilities.
For investors willing to gamble, a company with shares trading for less than a pack of gum could offer a big return if it is able to rebound.
Studies in the last period of multiple recessions (1980 through 1993) found that returns were strong for companies that emerged from bankruptcy.
However, investors who bought companies before and during bankruptcy proceedings often lost out. The few ones who chose the right companies to invest in during the restructuring process achieved strong average returns.
Betting on restructured companies is the same as playing the lottery: It's almost impossible to predict which ones will survive.
The following is a partial list of companies that have filed for Bankruptcy protection.
Some of the companies on the bankruptcy list below could still maintain afloat and survive, get restructured and come back swinging. Many though, will sink fast or have already gone under.
Academic Tours
Air America Radio
AJWright
Aloha Airlines
Alitalia
AMR Corporation (parent company of American Airlines and American Eagle)
Amtrak Express Parcels
Appalachian Oil
Aston Villa F.C.
ATA Airlines
Bally Total Fitness
BearingPoint Inc
Bed, Bath and Beyond
Bennigan's
Blockbuster Inc.
Bombay Co
Boscov's
BTWW Retail
Buffets Inc
Canwest
Circuit City
CompUSA
Continental Promotion Group
Covad Communications
Downey Financial Corp
Escada
Excite@Home
Exodus Communications
Focus_DIY
Fremont General Corporation
HFC Haarlem
Habitat
Harold's
Help-U-Sell
Hollywood Video
HomeForm Group
IndyMac Bancorp, Inc.
Joe's
KB Toys
Lenox Group Inc.
Levitz Furniture
Lillian Vernon Corp.
Linens 'N Things
Los Angeles Dodgers
Lyondell Chemical Company
Mervyns
Midway Games Inc
NorthPoint Communications
Oddbins
Performance Team Freight
Pilgrim's Pride
Pontin's
Sharper Image
Shoe Pavilion
Skybus
Smurfit-Stone Container Corporation
SsangYong Motor Company
Stanford Financial Group
Station Casinos
Steak & Ale
Steve & Barry's
Sun-Times Media Group
Tribune Company
Tropicana Entertainment LLC
Trump Entertainment Resorts Holdings
Ultimate Electronics
Washington Mutual, Inc.
Whitehall Jewelers

AND
EQUIBANC
FOXTONS INC.
FIRST MAGNUS
HOME EQUITY
LEHMAN BROTHERS
LEXINGTON LENDING
OPTIMA FUNDING
WACHOVIA

Here are some of the Biggest Bankruptcy Fillings in the USA.
Lehman Brothers Holdings
Assets: $691 billion
Date of filing: 09/15/08
Washington Mutual
Assets: $327.9 billion
Date of filing: 09/26/08
WorldCom
Assets: $103.9 billion
Date of filing: 07/21/02
General Motors
Assets: $91 billion
Date of filing: 6/1/09
Enron
Assets: $65.5 billion
Date of filing: 12/02/01
Conseco
Assets: $61 billion
Date of filing: 12/17/02
Continental Illinois National Bank and Trust
Assets: $40 billion
Date of filing: 1984
Chrysler
Assets: $39 billion
Date of filing: 04/30/09
Thornburg Mortgage
Assets: $36.5 billion
Date of filing: 05/01/09
Pacific Gas and Electric Co.
Assets: $36 billion
Date of filing: 04/06/01
Texaco
Assets: $34.9 billion
Date of filing: 04/12/87
First Republic Bank
Assets: $32.5 billion
Date of filing: 1988
IndyMac
Assets: $32 billion
Date of filing: 2008
American Savings and Loan
Assets: $30.2 billion
Date of filing: 1988
Colonial Bank
Assets: $25 billion
Date of filing: 2009
Bank of New England
Assets: $21.7 billion
Date of filing: 1991


Return from bankruptcy list to Home page.

DISCLAIMER: The law will vary depending on your state, jurisdiction and the specifics of your case. The information provided by USAttorneyLegalServices.com is intended for educational purposes only. The content on this site should NOT be considered professional legal advice or a substitute for professional legal advice. For such services, we recommend getting a free initial consultation by a licensed Attorney in your state.
Copyright © 2020 USAttorneyLegalServices.com - bankruptcy list - All Rights Reserved.