CHEAP DIVORCE ATTORNEYS MISSISSIPPI


Near Me Listing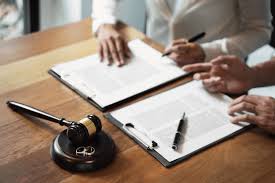 Our Cheap Divorce Attorneys Mississippi are here to guide you each step of the way and make sure you get through the divorce process quickly and easily.

A divorce can be very stressfull and dificult, especially when minor children are involved.There will be orders addressing child support, custody, and parenting time. It also can include division of property, assets, debts and spousal maintenance or alimony. The right legal help can reach fair and equitable agreements regarding your dissolution of marriage.

Competent and affordable divorce attorneys offer solutions to solve your family law issues with easy payment plans to meet every budget.

CHEAP DIVORCE ATTORNEYS MISSISSIPPI -

Affordable Initial Consultation
Burgoyne Law Offices 6812 Crumpler Blvd Ste 202A Olive Branch, MS 38654 Phone: 877-308'6504
Robbie Byers, 360 N. Broadway Street Tupelo, MS 38804 Phone: 662-205'6112
Douglas G. Mercier, 774 Avery Blvd. N. Suite A Ridgeland, MS 39157 Phone: 601-588'9103
Simmons Dallas, 240 Trace Colony Park Drive Suite 200 Ridgeland, MS 39157 Phone: 888-833-8061 
Atchison Law Firm 1092 Acadian Dr Suite 1 Gulfport, MS 39507 Phone: 228-300'4344
The Holmes Law Firm, 915 West Pine Street Hattiesburg, MS 39401 Phone: 601-550'6001
S. Christopher Farris, 6645 U.S. Highway 98 West Suite 3 Hattiesburg, MS 39402 Phone: 601-910'6979
Law Offices of Mel Coxwell 20 Eastgate Drive Suite E Brandon, MS 39042-2329 Phone: 601-724'8723
Hearn Law Firm, PLLC - 104 S. Railroad Ave. Blue Mountain, MS 38610 Phone: 866-583'8721
Hornsby Watts, PLLC 1025 Howard Avenue Biloxi, MS 39530 Phone: 228-207'2990
Suzanne Baker-Steele 177 Lameuse Street Suite A PO Box 1287 Biloxi, MS 39530 Phone: 888-551'7009
Lauren E. Kelley, 645 Delmas Ave Pascagoula, MS 39567 Phone: 228-300'4339
The Nichols Firm PLLC 122 5TH ST S Columbus, MS 39701 Phone: 662-243'7314
Robert H. Koon 2202 25th Avenue, Suite C Gulfport, MS 39501 Phone: 228-868'2919
The Maggio Law Firm, 2201 24th Avenue Gulfport, MS 39501 Phone: 228-206'6637
Meador & Crump, P.A. 111 South Pearman Avenue Cleveland, MS 38732- 3245 Phone: 662-441'2438
Dyer, Dyer, Jones & Daniels, 149 North Edison Street Suite A Greenville, MS 38701 Phone: 662-580'4551
Hollis Legal Solutions, 6814 Crumpler Boulevard Suite 101 Olive Branch, MS 38654 Phone: 662-892'3717
Walsh Law Firm, P.L.L.C. 6831 Crumpler Blvd. Suite 200 Olive Branch, MS 38654 Phone: 662-205'6546
The Wade Law Firm, PLLC 321 Hwy 51 Suite C Ridgeland, MS 39157 Phone: 601-790'0043
Robert W. Davis, Jr., 542 Jefferson St. Tupelo, MS 38804 Phone: 662-269'4454
American Bar Association
DISCLAIMER: The law will vary depending on your state, jurisdiction and the specifics of your case. The information provided by USAttorneyLegalServices.com is intended for educational purposes only. The content on this site should NOT be considered professional legal advice or a substitute for professional legal advice. For such services, we recommend getting a free initial consultation by a licensed Attorney in your state.
Copyright © 2023 USAttorneyLegalServices.com - Cheap Divorce Attorneys Mississippi - All Rights Reserved.