FREE LEGAL AID MAINE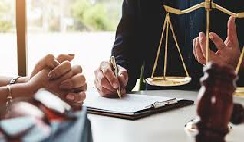 Free legal Aid Projects provide free help with civil (non-criminal) legal problems for low-income Maine residents.
The pro bono program assist low-income families, as well as the elderly, disabled and other vulnerable individuals to resolve legal problems and to provide them an opportunity for an improved quality of life.
Qualifying clients get free information, brief assistance and pro bono legal representation in civil legal matters.
Get assistance with cases dealing with: divorce, child support and child custody, consumer law, Social Security and unemployment compensation, bankruptcy, foreclosure, personal injury, real estate and tax law.
Legal Services For The Elderly -- Legal Access Project
9 Green St. 4333 Augusta ME 04331-2723 Phone: (207)621`0087 Toll Free: (800)750`5353
Case Types: Bankruptcy, Dissolution of Marriage, Elder Law, Health, Housing, Individual Rights, Public Benefits, Real Estate, Wills, Planning for Aging-POA's, etc.
Pine Tree Legal Portland Office
88 Federal Street P.O. Box 547 Portland ME 04112 Phone: (207) 774`8211
Pine Tree Legal Augusta Office
39 Green Street P.O. Box 2429 Augusta ME 04338-2429 phone: (207) 622`4731 or (207) 623`7777
Pine Tree Legal Lewiston Office
37 Park Street, Suite 401 Lewiston, ME 04240 Phone: (207) 784`1558 Fax:(207) 783`8774
Pine Tree Legal Presque Isle Office
373 Main Street Presque Isle ME 04769 phone: (207) 764`4349
Pine Tree Legal Machias Office
PO Box 278 Machias, Maine 04654 Phone: (207) 255`8656
Pine Tree Legal Bangor Office
61 Main Street Bangor ME 04401 phone: (207) 942`8241 FAX: (207) 942`8323 Wheelchair access: 50 Columbia Street
Maine Volunteer Lawyers Project
PO Box 547 Portland ME 04112 Phone: (207)774`4518 - (207)774`4348 Fax: (207)828`2300
Case Types: Bankruptcy, Consumer, Child Custody, Dissolution of Marriage, Education, Housing, Real Estate, Torts, Wills Case Restrictions: LSC restrictions
The Immigrant Legal Advocacy Project (ILAP)
309 Cumberland Ave. Ste 201, PO Box 17917 Portland, Maine 04112 PHONE - (207)780`1593 FX - (207)699`2313 Toll Free Hotline 1(800)497`8505
The Immigrant Legal Advocacy Project (ILAP) is Maine's only provider of free and low-cost immigration information and legal assistance to low-income Maine residents. In 2007, ILAP assisted over 2300 individuals originating from 109 different countries around the world. ILAP's skilled legal assistance helps Maine's immigrants keep their families together, gain protection from persecution and domestic violence, attain residency and work authorization, and become proud U.S. citizens.

Pro bono is a phrase derived from Latin meaning "for the good".
Return from Free Legal Aid Mainde to Home page.

DISCLAIMER: The law will vary depending on your state, jurisdiction and the specifics of your case. The information provided by USAttorneyLegalServices.com is intended for educational purposes only. The content on this site should NOT be considered professional legal advice or a substitute for professional legal advice. For such services, we recommend getting a free initial consultation by a licensed Attorney in your state.
Copyright © 2020 USAttorneyLegalServices.com - Free Legal Aid Mainde - All Rights Reserved.