ILLINOIS ATTORNEYS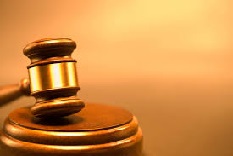 Contact Illinois Attorneys who handle Personal Injury Lawsuits, Illinois Criminal Law, Divorce, Illinois Bankruptcy, Medical Malpractice, and other Illinois Legal Services.

Most people choose a lawyer whom they have met or one which friends or relatives have recommended. Another way to select an Attorney is through the Illinois State Bar Association. 

Illinois Bar Foundation
The Illinois Bar Foundation is celebrating over fifty years of service, providing aid to deserving members of the Illinois Bar. The Foundation has also expanded its scope to provide legal services for Illinois families, as well as facilitate and encourage the development of the legal profession within the State.
Illinois State Bar - Springfield 424 South Second St. Springfield, IL 62701 (217) 525`1760 In Illinois: T (800) 252`8908 F (217) 525`0420
Illinois State Bar - Chicago 20 South Clark, #910 Chicago, IL 60603 T (312) 726`6072 F (312) 726`6073
Return from Illinois Attorney to Home page.

DISCLAIMER: The law will vary depending on your state, jurisdiction and the specifics of your case. The information provided by USAttorneyLegalServices.com is intended for educational purposes only. The content on this site should NOT be considered professional legal advice or a substitute for professional legal advice. For such services, we recommend getting a free initial consultation by a licensed Attorney in your state.
Copyright © 2020 USAttorneyLegalServices.com - Illinois Attorney - All Rights Reserved.