SOUTH DAKOTA SOCIAL SECURITY OFFICES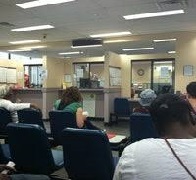 It is advised that you seek the assistance of a Social Security Disability attorney or advocate to help your Social Security Disability application or appealing process have a better chance of being accepted. Also gather and prepare all the evidence, medical reports, medical exams, notes, work history and properly completed application forms.

To schedule an appointment with an SOUTH DAKOTA SOCIAL SECURITY LOCAL OFFICE, call 1(800)772`1213 (TTY 1(800)325`0778) 7 a.m. to 7 p.m., Monday through Friday. You must have your Social Security number handy when you call.

Don't forget to bring a government issued photo ID to enter the building in the United States.
SOUTH DAKOTA SOCIAL SECURITY AGENCIES LOCATIONS
Aberdeen Social Security Disability 115 4th Ave SE Room 111 Federal Building Aberdeen, SD 57401 Telephone: (605) 226`7231
Huron Social Security Disability 200 4th Street SW Room 105 Federal Building Huron, SD 57350 Telephone: (866) 563`4604
Rapid City Social Security Disability 605 Main Street Suite 201 Rapid City, SD 57701 Telephone: (605) 342`1819
Sioux Falls Social Security Disability 2400 W 49th Street Suite 100 Sioux Falls, SD 57105 Telephone: (605) 330`4334
Watertown Social Security Disability 514 10th Ave SW Watertown, SD 57201 Telephone: (605) 886`8284
Yankton Social Security Disability 121 W 3rd St Suite 101 Yankton, SD 57078 Telephone: (605) 665`6801

Return from South Dakota Social Security Offices to Home page.

DISCLAIMER: The law will vary depending on your state, jurisdiction and the specifics of your case. The information provided by USAttorneyLegalServices.com is intended for educational purposes only. The content on this site should NOT be considered professional legal advice or a substitute for professional legal advice. For such services, we recommend getting a free initial consultation by a licensed Attorney in your state.
Copyright © 2020 USAttorneyLegalServices.com - South Dakota Social Security Offices - All Rights Reserved.